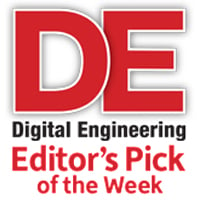 Data is fundamentally changing the way companies do business, driving demand for data scientists and increasing the complexity in their workflows. To meet these challenges Data scientists (and others) need sophisticated hardware, development, and software platforms which traditionally entailed IT or high-cost Data Science professionals spending many man hours configuring an engineering workstation that would meet their daily demands. With the launch of Quadro RTX, a new class of system was introduced– the NVIDIA-Powered Data Science Workstation – that delivers a fully integrated hardware and software solution for data science. This is just one of the reasons why Digital Engineering (DE) magazine selected the NVIDIA-Powered Data Science Workstation as its Editor's Pick of the Week.
NVIDIA-powered Data Science Workstations combine the latest NVIDIA Quadro RTX GPU technology with a fully optimized software stack including RAPIDS data processing and machine learning libraries, NVIDIA optimized TensorFlow, PyTorch, Caffe and other leading data science software, providing enterprises with accelerated workflows for faster data preparation, model training and data visualization. The beauty of the NVIDIA-Powered Data Science Workstation is that it is delivered as a fully integrated turnkey solution that just works out of the box.
"There is so much more we could say about this exciting new approach to AI, Data Science, and Big Data Analytics." DE's Editors
See why DE's Editors selected the NVIDIA-Powered Data Science Workstations from PNY Authorized Partners as their Pick of the Week.
---
Visit these resources for more information:
[LIVE WEBINAR] NVIDIA Quadro Powered Data Science Workstations and OmniSci – Powering the Transition to AI and Big Data Analytics. REGISTER NOW
NVIDIA-Powered Data Science Workstations
Quadro RTX for AI
Compare NVIDIA Quadro Graphics Boards