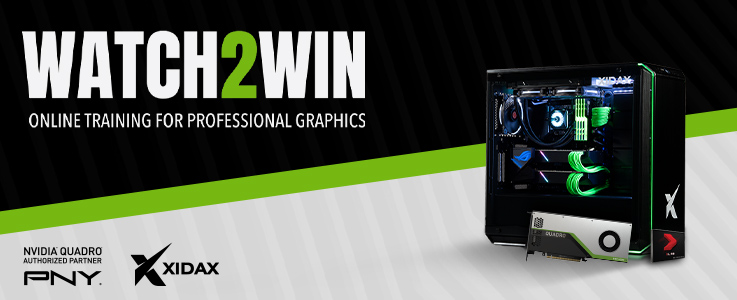 For close to four years, PNY has been running Watch2Win contests offering prizes ranging from NVIDIA Quadro graphics boards, HDTV's through to custom Quadro powered workstations. For this new Watch2Win contest we are excited to offer a custom designed workstation from XIDAX, powered by an NVIDIA Quadro RTX 4000 VR-Ready professional graphics board offering real-time raytracing and AI capabilities.
For this latest Watch2Win contest, PNY and XIDAX have teamed up to give away a custom workstation featuring the AMD RYZEN 3900X 12 core and configured with a high-performance
NVIDIA Quadro RTX 4000
professional graphics board.
You'll get incredible read and write speeds with the
PNY CS2311 SSD
, so you can quickly search and open files. This workstation is ideal for CAD, media editing, virtual reality, or anything in-between.
It is easy to enter the Watch2Win contest. Simply register online and earn entries for watching short and informative videos on NVIDIA Quadro solutions to learn which of these advanced professional graphics boards can help you accelerate your workflow. Earn additional entries for following PNYPRO on social. The contest opens on December 16 and runs until January 31, 2020.
Watch2Win Custom Workstation Specifications:
Case: Umbra RGB
Motherboard:

ASUS X570 PRIME PRO

Processor:

AMD RYZEN 3900X 12 core

Memory:

(4x8GB) Xidax Extreme DDR4 2666MHz Memory-32GB

Power Supply:

Seasonic FOCUS PLUS 850W GOLD

Sound Cards:

Creative Labs Soundblaster AE5 RGB

Graphics Card:

NVIDIA Quadro RTX 4000

HDD:

Western Digital Black 1TB

SSD: PNY

XLR8 2311 500GB SSD

CPU Cooling:

be quiet! DARK ROCK TF 220W CPU AIR COOLER

OS: Windows 10 Professional 64-Bit