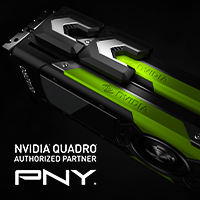 NVIDIA® Quadro® GP100 excels at a capability to run both compute and graphics tasks, allowing users to run demanding simulations and create complex 3D models at the same time.
GP100 is targeted for professionals who need extremely high levels of compute and visualization performance. Solutions within Manufacturing, Media & Entertainment, Medical, AEC, Scientific Visualization, HPC, and AI/deep learning segments are examples but many other use case scenarios can be realized as well.
NVIDIA Quadro GP100 Pascal GPU floating point hardware provides the FP64 (5.2 TFLOPS), FP32 (10.3 TFLOPS and FP16 (20.7 TFLOPS) performance required for demanding compute, simulation, AI and deep learning applications.